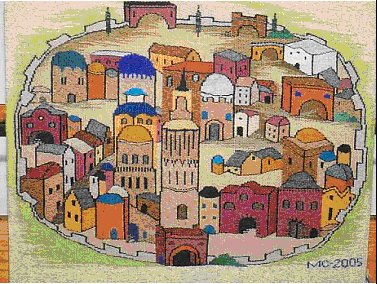 This is an imaginary City. Children who saw the tapestry being woven were invited to put their names on the buildings, squares and streets.
Over the months of weaving, the hopes of the children were confided to the weaver, Mary Cassini. These included a City where grown-ups were not allowed, so that there would be no wars.
Children wanted a place where people can come for help, where animals are protected, and where there is laughter, music and theatre.
The Gate of Hope is lower centre, and the Gate of Forgiveness is top left.
Warp: Swedish Linen Weft: Wool & Silk
25" (63.5cm) wide x 22 ˝" (57cm) high
Ó Mary Cassini 2007